DR. S. BOND – CONSTRUCTION CHEMICALS
Dr.S.Bond has been providing quality building products and solutions based services for more than a decade. After establishing itself as leaders in domestic market, Dr.S.Bond has successfully entered into international markets. Through the following strategic business, Dr.S.Bond caters to the different needs of the infrastructure and construction industry.
The BCD (Building Construction Division) – is a Domestic leader in providing best quality solution related to modern infrastructure in the domestic and internal market. The Construction Chemicals & Additives Division – The division's state-of-the-art factory for construction chemicals (CCAD).
The CCAD business has technical know how and are cosmetic in manufacturing products as per ASTM/IS standard. As a testimony to its quality, we have received various appreciations, certifications from our esteemed customers.
Dr.S.Bond R & D Wing develops World class construction products suited to match customer requirements in India. Our products range of construction chemicals includes: Admixture, curing and sealing compounds, floor hardeners and toppings, epoxy floorings & coatings, grouts, sealants, repair compounds, waterproofing chemicals and Tile fixing solutions.
Dr.S.Bond are being used in many prestigious projects all over the Country. CCAD has gained reputation as a provider of quality chemicals and additives to Construction, hydro electric projects, Projects, Petrochemical, Electronic, Food, Cement and other industrial sectors, their unique epoxy flooring systems have gained wide appreciation and acceptance by many industrial customers. We at Dr.S.Bond strive to set new standards in the Construction Chemical Industry by providing World class solutions to meet the emerging market requirements and customer expectations.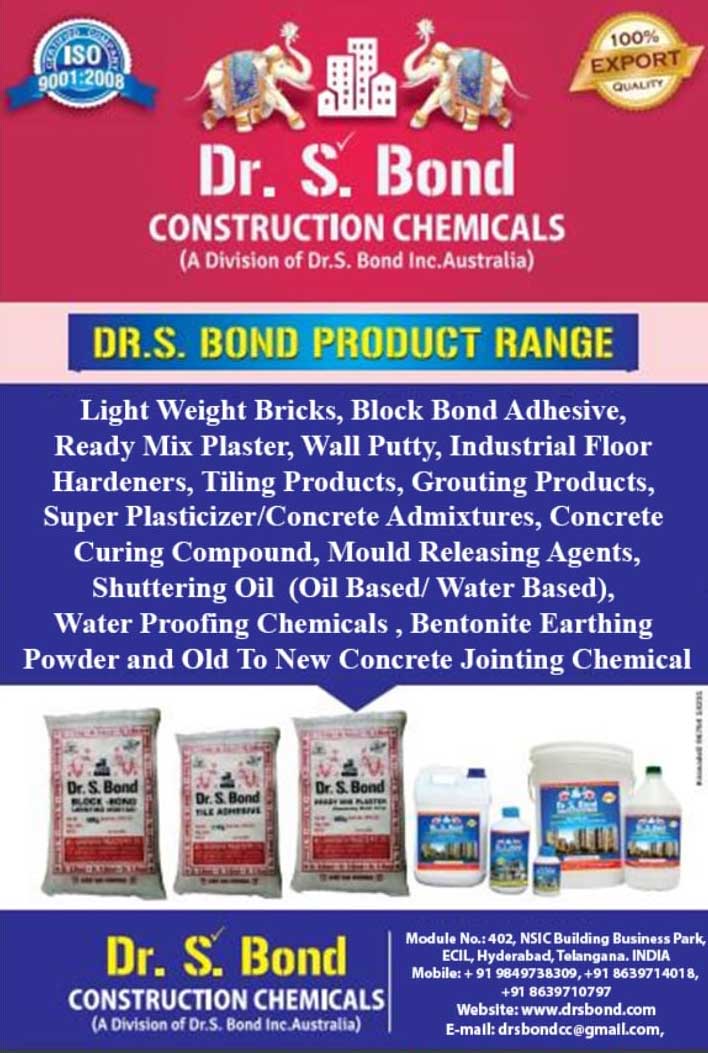 Dr. S. Bond – construction Chemicals
Water Proofing Compounds
Water Proofing Coatings
Concrete Admixtures
Repairs & Bonding Agents
Industrials Grout
Floor Hardners
Epoxy Floor Screeds
Epoxy & Protective Coating
Epoxy Floor Protective
Mould Releasing Agents
Cleaning Agents
Tilling Products